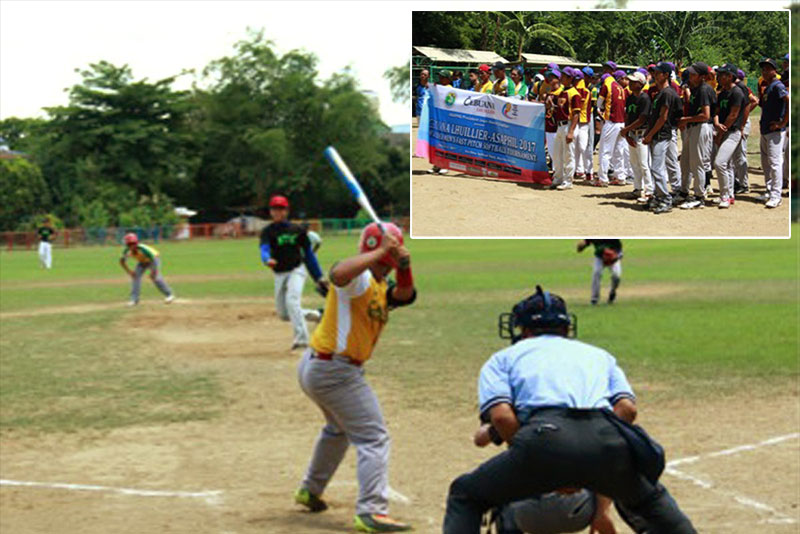 DepEd accommodates 40 guest teams
Ang galing, ang gaganda ng mga rooms, mga high-tech", softball players commented
Department of Education- Cabuyao accommodated a total of 40 guest teams joining the Summer Grand Slam XI on May 21-27.
City Schools Division of Cabuyao extended its assistance by offering Banlic Elementary Schools, Pulo Elementary School and Pulo National High School as the players' quarters for one-week national open league.
Banlic Elementary School, which is a three-minute walk from Banlician Softball Fields, accommodated Tanauan City, Imus City, University of East, RP Youth Softball Women, Polytechnic University of the Philippines, National University, Adamson University, Sta. Maria Bulac-an, and Tanza Cavite.
Meanwhile, sixteen classrooms of Pulo National High School serve as quarters of Rizal Technological Univer-sity, Cabiao National High School, Manila 1, Manila 2, University of Cordillera Baguio, Makati City, Benguet State University, University of the Phil-ippines 1, University of the Philippines 2, and Central Luzon State University.
Pulo Elementary School, on the other hand, serves as the billeting place of Philippine Air Force, Philippine Army, Cebu City, JK Zamboanga, Anti-polo City, Calamba City, San Ildefonso Bulacan, Tacurong City, Ateneo de Manila University, Binangonan, Alasba Bi-col, Quezon Province, San Rafael Bulac-an, Rizal Technological University, Polytechnic University of the Philip-pines, and Benguet State University.
Mrs. Belen G. Gimutao, princi-pal of Banlic Elementary School, Dr. Reynaldo Talavera of Pulo Elementary School, and Dr. Cristina Talambayan, principal of Pulo National High School together with their teachers provide assistance to all the players.
To ensure that everything is well in the billeting areas, Mrs. Doris DJ Estalilla, Division Schools Superinten-dent, with Mr. Rodrigo Tenorio, Division Information Coordinator regularly monitors the three schools.
ON THE SPOT. Schools Division Superintendent Doris DJ Estalilla (far-left) and Division Information Coordinator Mr. Rodrigo Tenorio (center) monitor the respective billeting schools to ensure that guest teams are accommodated well.
Ateneo prevails opener,outscores Cabiao, 7-0
Struggling in its opening feat, Ateneo showed no mercy after ruling out the entire match as it cruised Cabiao, 7-0 in the midst of the extreme heat of the sun, 2017 Summer Grand Slam Open Fast-pitch Softball Championships, Banlic Diamond, May 21.
Ateneo showed aggressiveness both on its defense and offense to control the game. Jill San Juan delivered a homerun to keep the momentum going.
Still on top, Ateneo, bothered by two outs, became unstoppable in the second inning as Gibby Macatulad and RevynLacson contributed a run each, 4-0.
Cabiao also showed combative defense in the third and fourth innings but continued to struggle in scoring.
Ateneo showed strong offense once more in the fifth top inning after capping three runs to close the game, 7-0
Cabuyao City facilitates Mayor's Night,
Gecolea welcomes sports enthusiasts
To welcome and promote team spirit among organizers, coaches, and athletes, City of Cabuyao led the Mayor's Night at Banlic Elementary School,City of Cabuyao, May 20.
Honorable Rommel A. Gecolea welcomed and praised the participating teams and organizers of ASAPHIL Summer Grand Slam Softball Championships.
"Welcome to Cabuyao City. With our concerted efforts, we will surely realize our goal in producing competitive players. Cabuyeńos are here to lead and serve you the best as we can."
Moreover, Mr. Phillip Austria, barangay captain of Banlic,City of Cabuyao, expressed his gratitude for choosing Banlic as one of the play-ing fields and assured the safety of the players from the different places of the country.
"Hope that you will enjoy the game as well as your stay in our place. Rest assured that your security will be our primary concern, our barangay police will be there 24 hours."
Meanwhile, Dr. Jose Charlie Aloquin , Principal coordinator, stressed that DepEd family as an active partner of city government is always ready to give assistance the participants.
"On behalf of the principals of DepEd Cabuyao City, I would like to inform that we are always ready to extend our assistance just communicate with us your needs and concerns us."
The festive mayor's night provided sumptuous dinner and entertainment with live band.